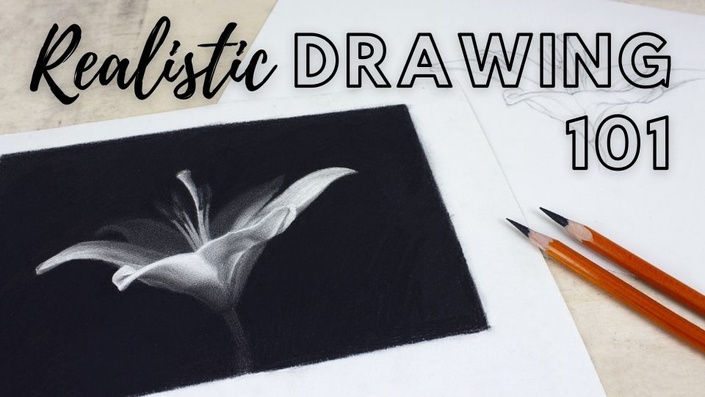 Realistic Drawing 101
Learn the essential skills and concepts of realistic drawing by drawing along with me, step by step.
Enroll in Course
Realistic drawing may seem like magic, but it is a skill that you, too, can learn!

In this course, you and I draw the flower below using charcoal pencils. I demonstrate the entire drawing process, from the first pencil marks to the final ones. You download the high-resolution reference photo and draw along with me, step by step!
The essential concepts and steps needed to create believable, realistic drawings are presented through clear animations and video lectures that are easy to absorb and immediately put into practice.
Best of all? You can apply the concepts you learn in this course to any drawing you create in the future!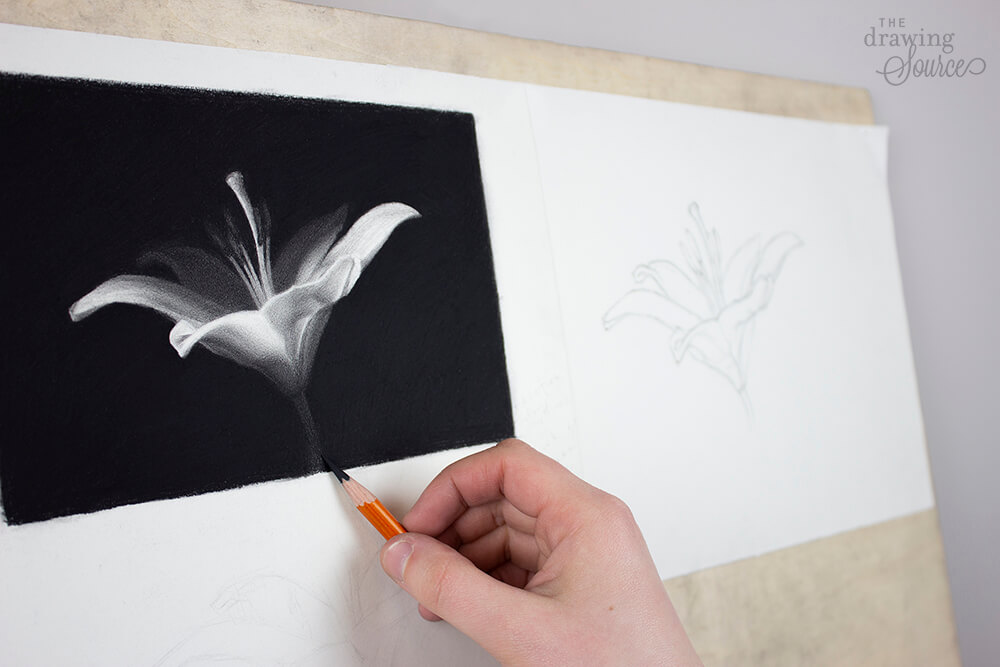 Covered in this Course:
The most effective way to start a drawing
5 strategies for drawing an accurate block-in
How to see and simplify values
The key to realistic shading
The stages of shading
How to use vine or willow charcoal
How to create depth and dimension in your drawings
How to create a focal point
How to shade a smooth, even value

The Course Includes:
Full-length, step-by-step video demonstrations
A high-resolution reference photo for you to draw along with me
A list of drawing supplies I will be using and recommend

Who You'll be Learning From and Drawing With:
Your Instructor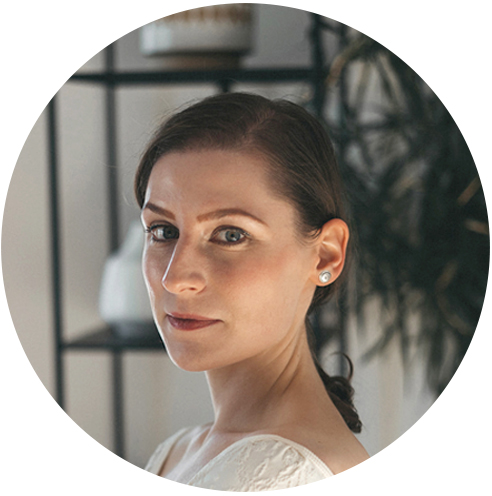 Marina Fridman is a visual artist, educator, and author of The Drawing Source. Fridman holds a Master of Fine Arts Degree from Alfred University, and a BFA from the Pennsylvania Academy of Fine Arts. She is a three-time recipient of the prestigious Elizabeth Greenshields Foundation Grant, among other awards, and her work has been exhibited and published internationally. Most importantly, she is passionate about making quality drawing education accessible to anyone wishing to learn how to draw!
In my own creative practice I create drawing installations: large-scale drawings that transform a space, such as the one below (yes, entirely hand-drawn!)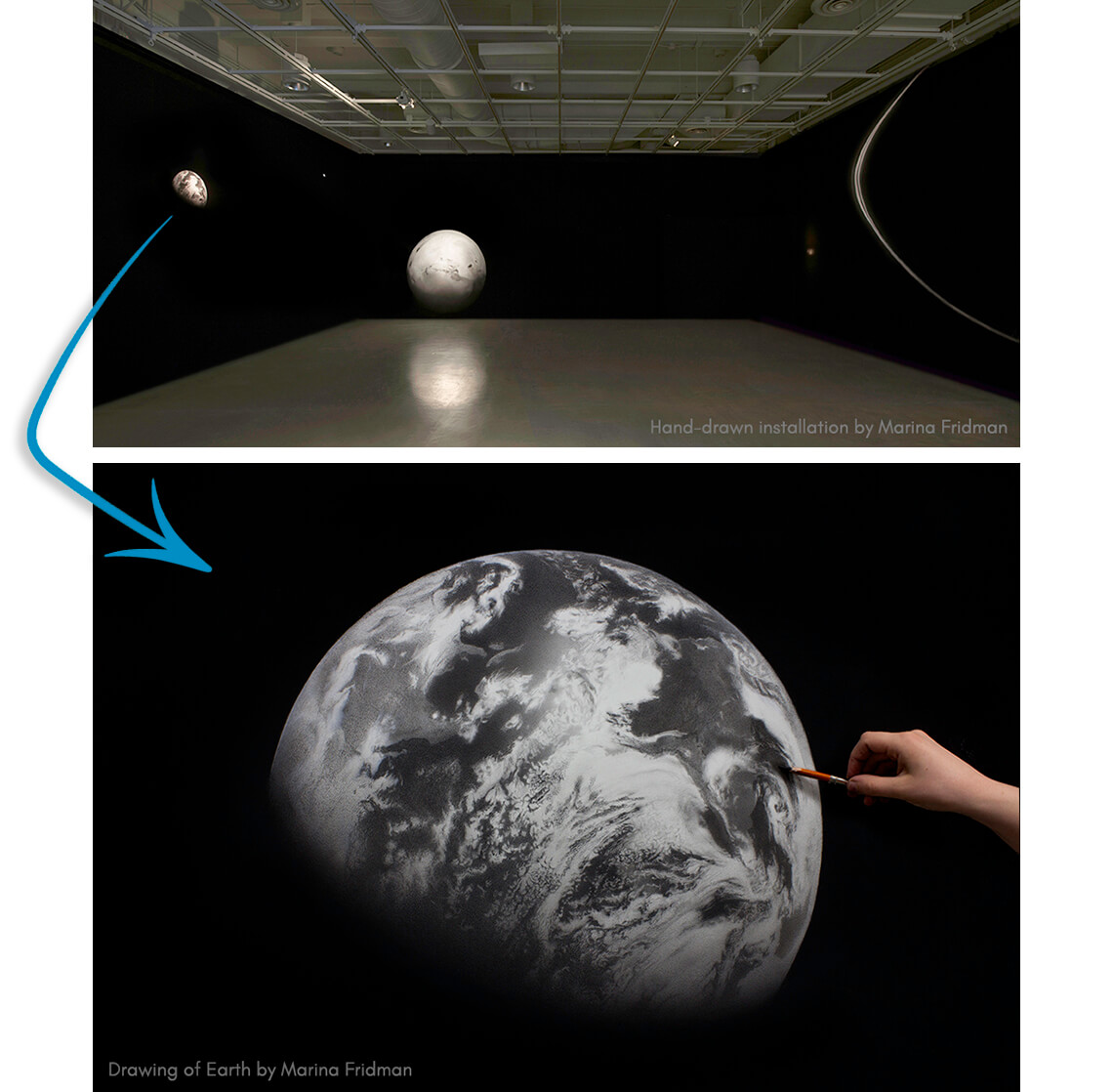 What you'll draw with me during this course: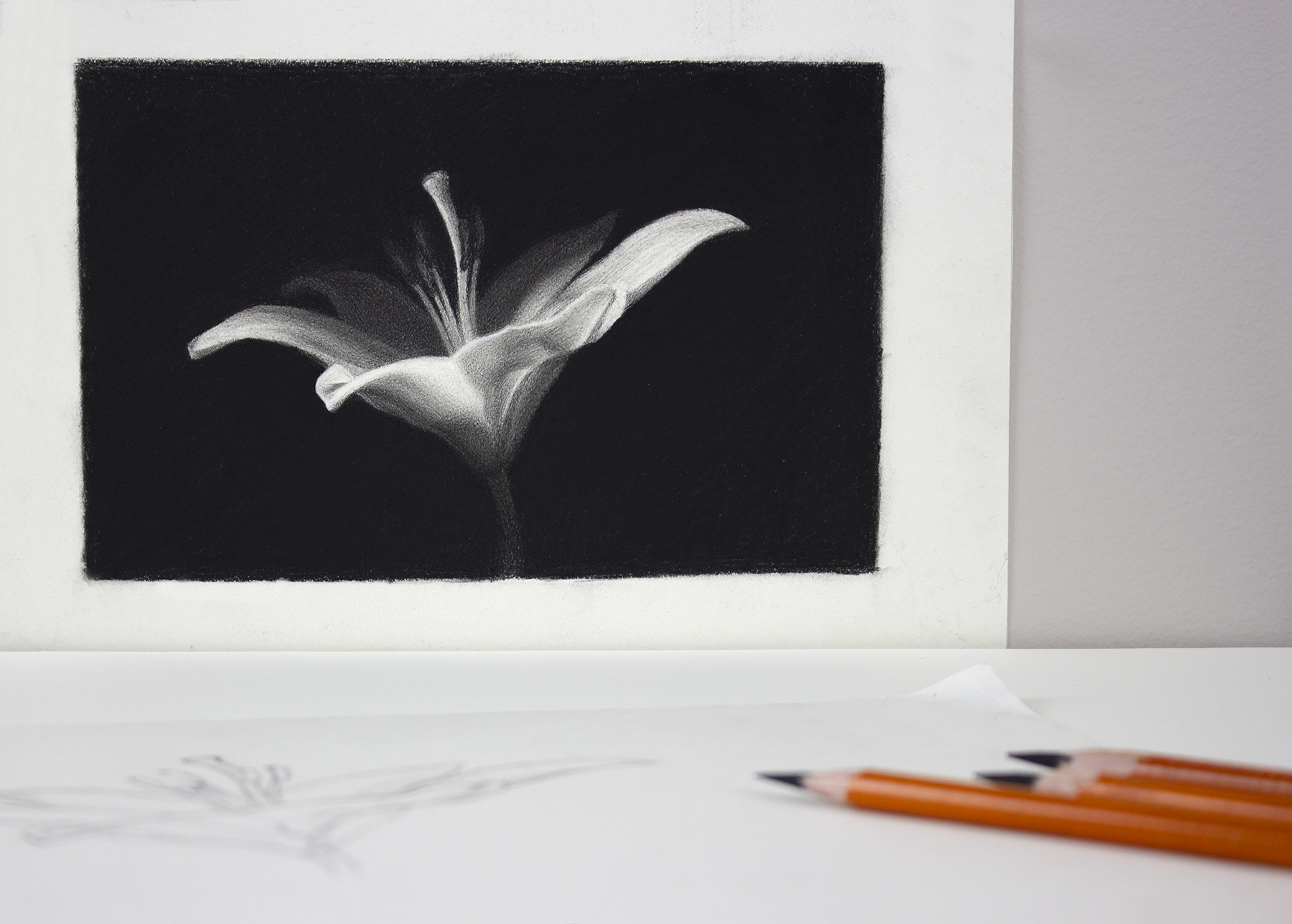 Student Testimonials:


"I am so glad that I stumbled upon The Drawing Source while looking for some material to learn about drawing. Marina is an amazing trainer who is not only a super duper expert in her skills but also has an amazing quality in sharing and imparting this skill through her precise, clear and effective training videos. This can really get anyone started quickly. What I liked the most is that you can reach out to her for your queries and inputs and get prompt and constructive feedback. I have and will recommend her courses/training anytime. I have learned and enjoyed it so much. I can go on and on but you really have to sign up to experience it yourself." - Anjana G.

"This is the best tutorial I have seen. I hope you come up with more courses. You're a great teacher, and your videos are well done." - Kailash M.


"What a valuable course this has been for me! Marina has it set up with clear, doable steps to accomplishing a finished drawing and the result I've achieved is a beautiful drawing I'm proud of. She has answered any questions I've had promptly and with patience. Just watching her draw is an inspiration." - Lorie G.


"This tutorial is great for beginners and provides you with all you need to know about light/dark, and shading etc. The beauty is you can do the course at your own pace with no pressure. The sites navigation is very intuitive and feels very one to one thanks to Marina's relaxed style!!" -Tim B.


"I learned a lot about realistic drawing from participating in the online course, Realistic Drawing 101. Marina Fridman is a gifted teacher and artist. Her videos are clear and helpful. I progressed in knowledge of terms, technique, and use of new medium. It is clear that practise makes perfect but I'd take another class with her any day." - Carmen V.


"This course was well worth taking. A great deal of information was shared in a concise, easy to follow sequence with demonstrations throughout. Response to questions was timely and right on topic. Highly recommended." - Lana H.



Preview the course curriculum below!
Frequently Asked Questions
When does the course start and finish?
This is a self-paced online course - you can decide when you start and finish, and take as much time as you need.
How long do I have access to the course?
You have unlimited, lifetime access to this course, across any and all devices you own. You also receive a personalized drawing critique from me, to check on your progress or to problem-solve any issues you may be having!
What if I am unhappy with the course?
I would never want you to be unhappy! If you are unsatisfied with your purchase, contact me within 14 days and I will give you a full refund.
What method of measurement do you teach?
I teach comparative measurement in this course.