Learn to draw realistic, evocative eyes that add emotion and empathy to your portraits.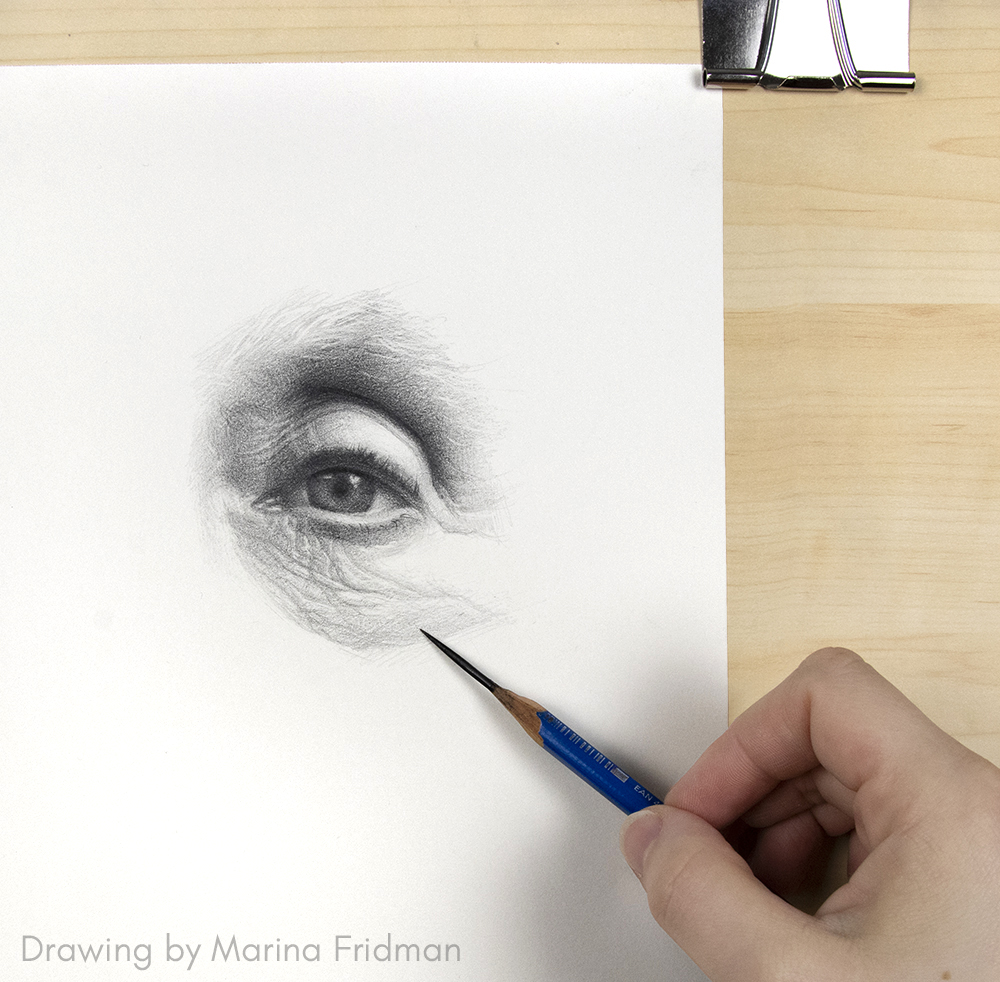 The 'windows to the soul' can be one of the most enthralling subjects to draw.


Often the focal point of a portrait drawing, well-drawn eyes are not only impressive to observe - they can also add emotion and empathy to a portrait, allowing a viewer to truly connect with our drawing.


Viewers of such a portrait remember not only the beautiful technique, but the feeling they experienced in front of the drawing.
On the other hand ... an unsuccessful eye drawing can ruin your portrait!

Does any of this sound familiar?


❌ Your eye drawings look anywhere from 'not quite right' to downright unrealistic.


❌ You don't know why all your eye drawings look generic, and you're frustrated that you can't fix a problem you can't identify.


❌ You've tried studying eye anatomy only to find it overwhelming and unclear how to apply the knowledge to your drawings effectively.


❌ Or, you may have had some eye-drawing success here and there, but you're ready to infuse them with the next level of realism and resonance.

It's time to transform your eye drawings!

It's absolutely possible for you to:


✏️ Understand what you're seeing when observing an eye (instead of feeling overwhelmed)


✏️ Unlock confidence and clarity, knowing what steps to take (and in what order) when drawing eyes

✏️ Stop people in their tracks with your naturalistic, soulful eye drawings

✏️ And enjoy the eye drawing process!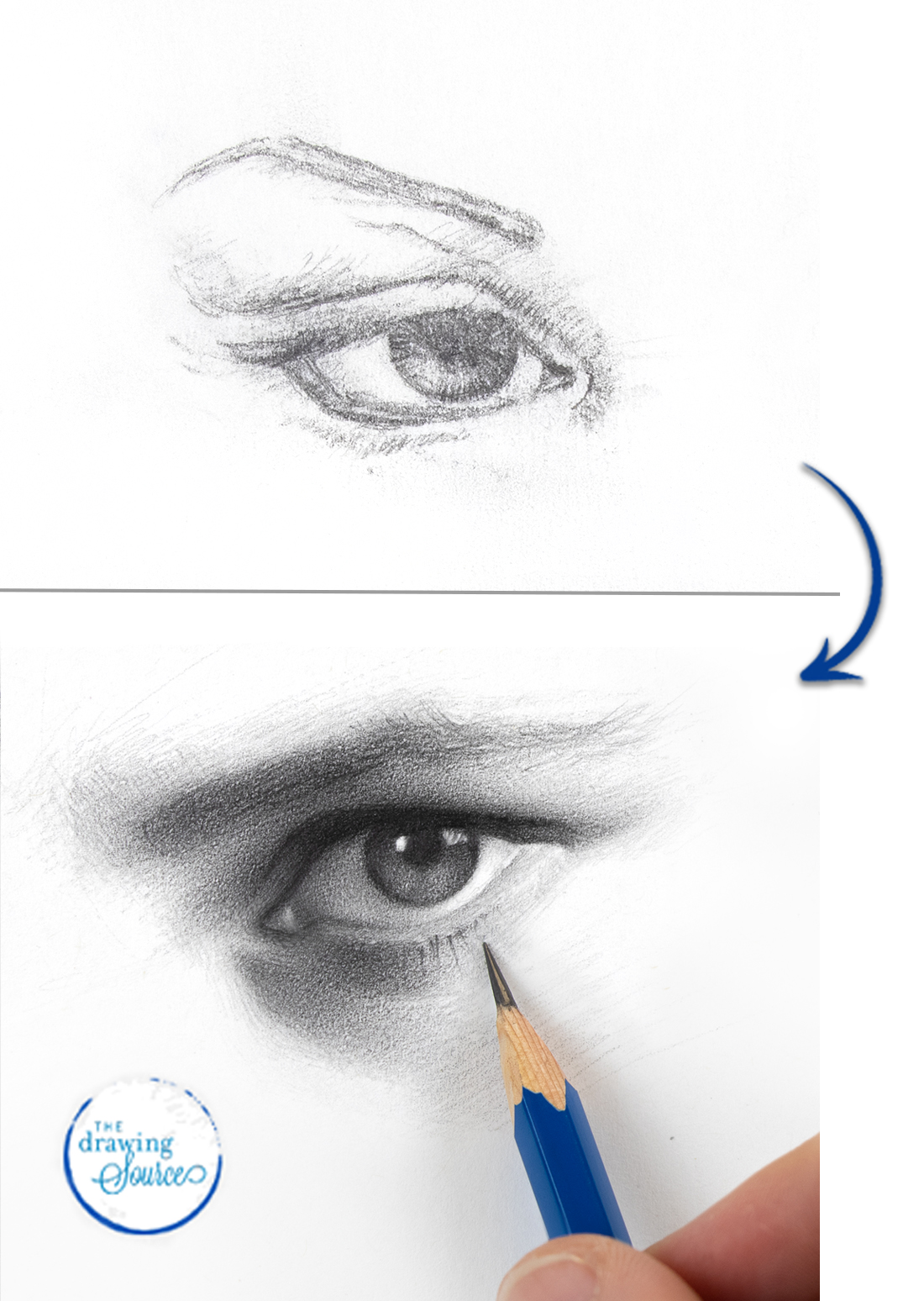 Unlock all of this, and more, in the Eye Drawing Intensive!
In this 6 - week program, we'll simplify the eye-drawing process into stages.

Focusing on each stage separately,
you'll acquire the knowledge, modes of seeing & skills needed for each one.

Then, you'll link them together in a smooth drawing process!

Let's dive into the details of each week: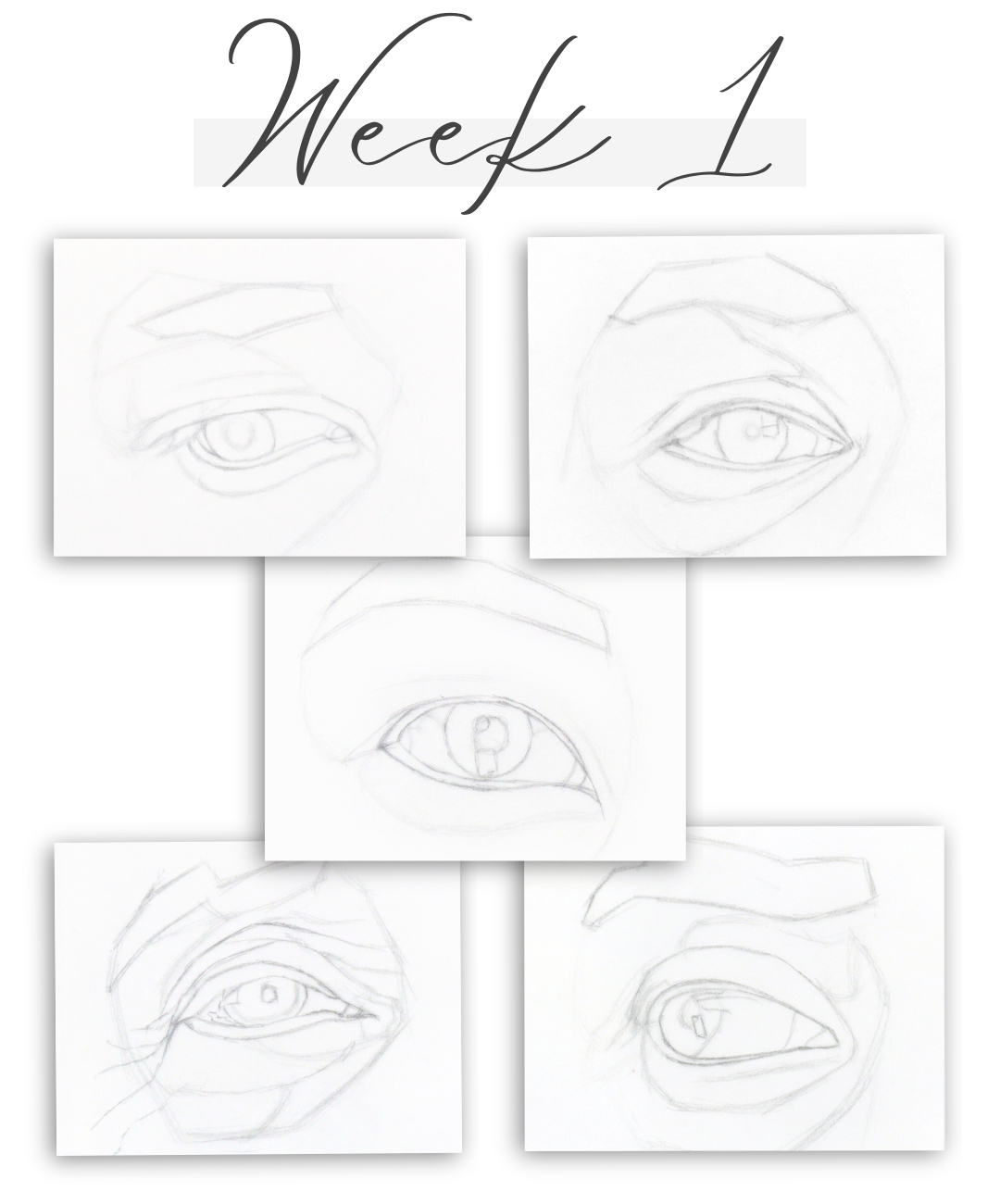 Essential Eye Anatomy
& Block-In Strategies


We start our drawings with the block-in: the line drawing that acts as a blueprint for shading. But what do we include? How do we make sense of the information in front of us?

In Week 1 you will learn:


what to include in the block-in of an eye (and what to leave out!) to set yourself up for successful shading


the anatomical knowledge needed to draw realistic, believable eyes (there's a checklist!)


how to identify and draw the parts of the eye in different positions

Why Study Anatomy?
When drawing an eye, if we copy a line that we see without understanding what it is: chances are that we won't draw it correctly or convincingly. It won't start from (or lead to) the right place, decreasing the realism and believability of our drawing.
Or, we'll miss an entire form of the eye altogether! It happens all the time. After all:

We can't see what we don't know to look for.
I'll teach you what is essential to look for and how to find it. Many students are amazed by the detail they begin to notice in their own eyes!

We study anatomy so that we can view eyes with understanding and clarity rather than overwhelm. When we understand what we are seeing, we can simplify what we draw. This creates a more realistic, true-to-life image.
Step by step instruction + 3D models = anatomy simplified
The study of anatomy itself doesn't have to be overwhelming. In this class:


Step by step exercises simplify the study of eye anatomy and construction.


3D models make it easy to see and understand how the forms of the eye appear to change as they turn away from us and towards us.

Student Comments

❝ During the first session, and by the end of it, I felt pure gratitude and appreciation. It's one thing to recognize great artists, however, it doesn't necessarily mean that they'll be great instructors. You are both!

Reading your emails I sensed that I found the right place and person to learn from. The first session proved my assumptions as correct. 

During class, I enjoyed the constructive, meaningful, and clear explanations of eye anatomy with excellent references. Most helpful were the visual images along with your guidance and demonstration. ❞ -Vered M.

❝ Thank you, you have opened my eyes to see in a different way. ❞ -Laura R.


❝ I really enjoyed the class! You were very clear and the class was so informative. I'm starting to realize how much I didn't know or even consider. I'm excited for all I will learn. It's great that you have provided the course content for us to review and have as a reference. Thank you! ❞ -Barbara S.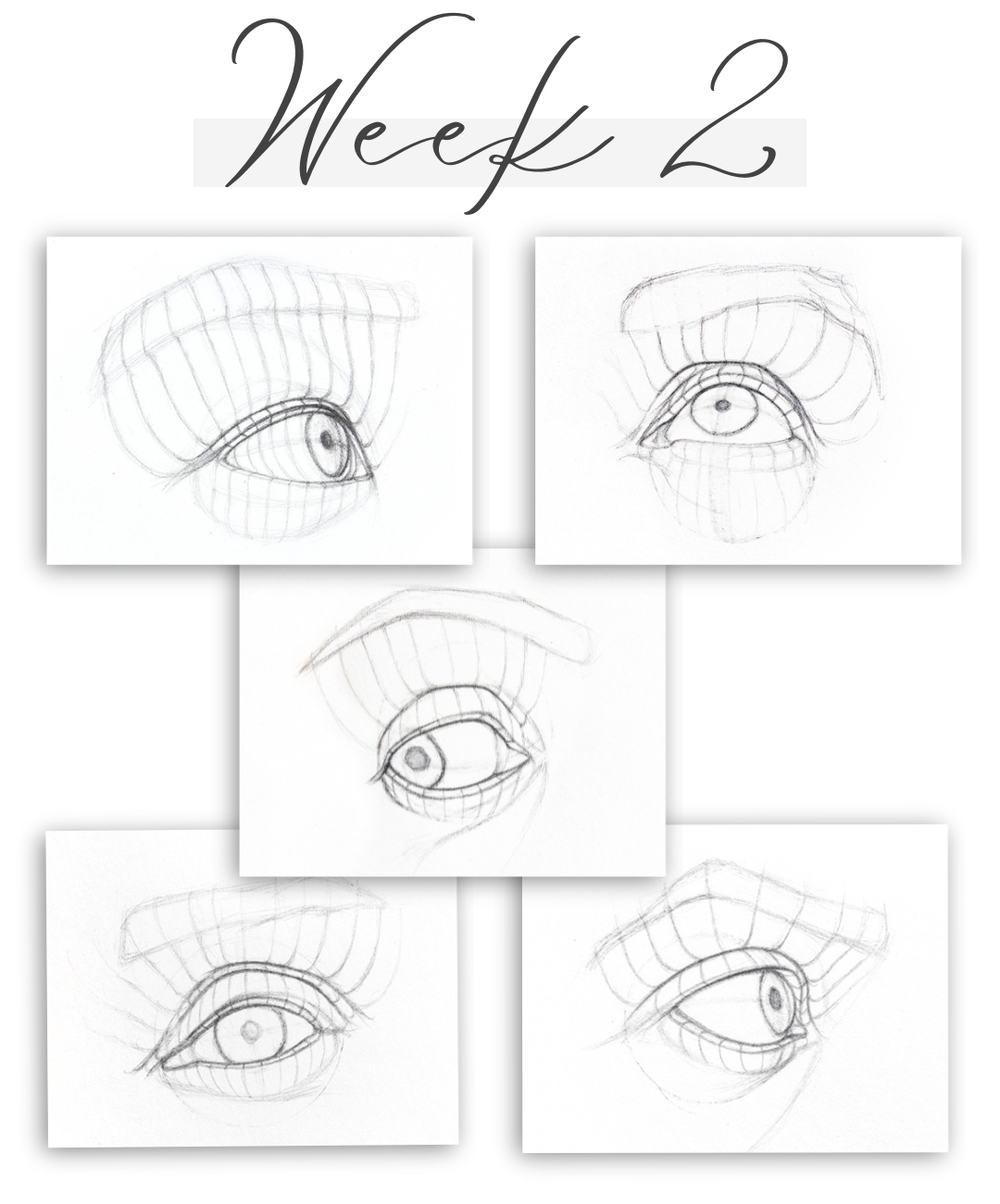 Constructing the Eye
from the Inside Out

Now that you know what's needed in your block-in, let's make sure you understand the forms that you are drawing!
In this '3D version' of the block-in, you will learn a 6-step process for constructing the eye.
We think like sculptors in this exercise, layering the forms of the eye from the inside out.
While we don't always include all of this information in a finished drawing, it's important to be able to visualize it so that we can convincingly imply this structure in our shaded drawings.
This can be a challenging but very rewarding exercise as all the components seem to 'click' into place!

Student Comments


❝ It was fun this time, too. It was my first experience building eyes from an eyeball! It was so exciting! The process of forming eyes is like putting clothes on an eyeball. The way I perceive "eyes" has changed. ❞ -Kaoru M.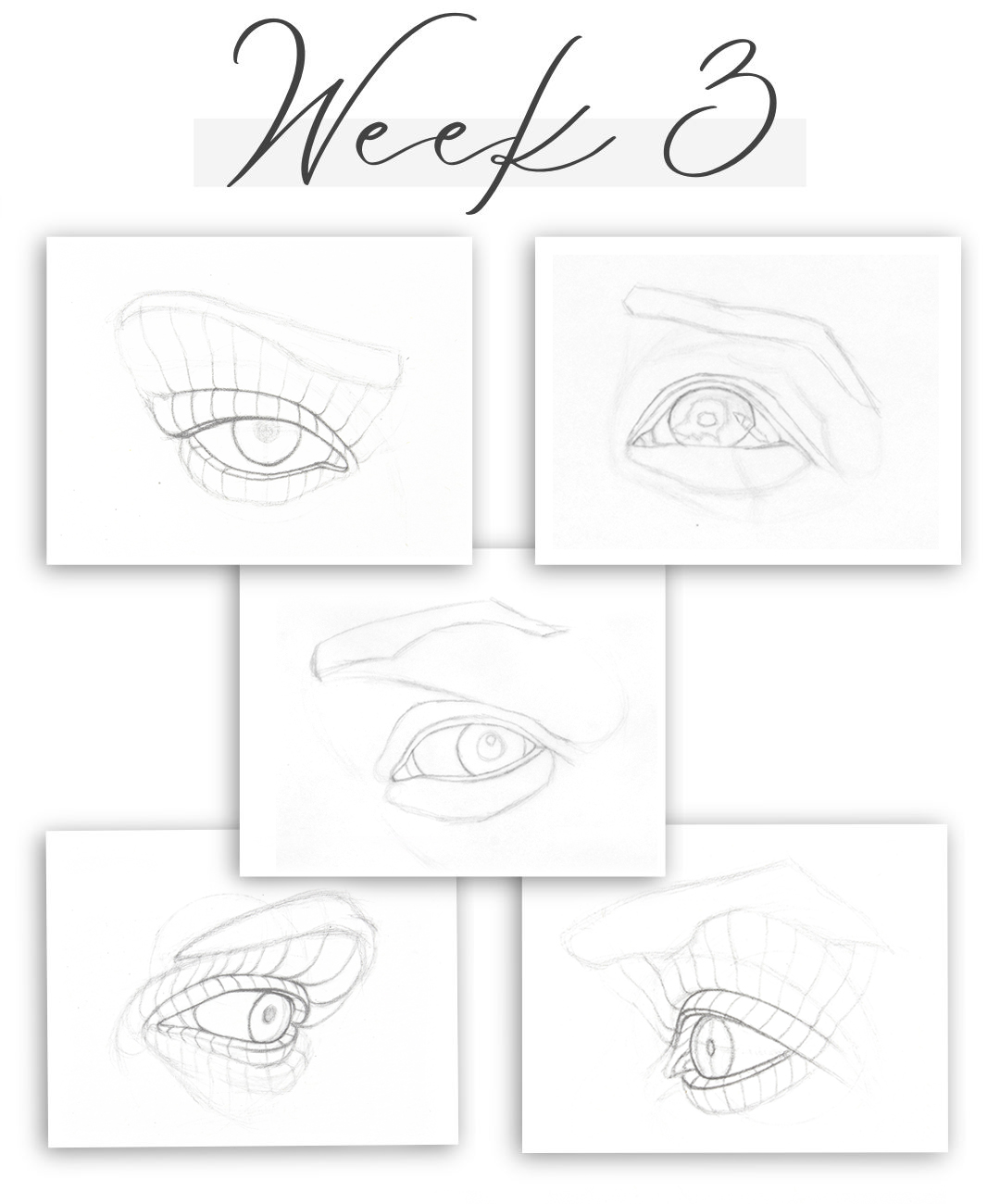 Catch-Up Week &
Intro to Smooth Shading Week


This program really is an intensive, and the exercises from Weeks 1 and 2 take time to work through.
Since they will only be useful if practiced and clarified through questions or drawing reviews, Week 3 is a catch-up week to make sure you have enough time to do that!
This week I also highly recommend taking my Intro to Smooth Shading course, which will prepare you for the shading half of the Intensive.
You will have access to Intro to Smooth Shading for the duration of the Eye Drawing Intensive.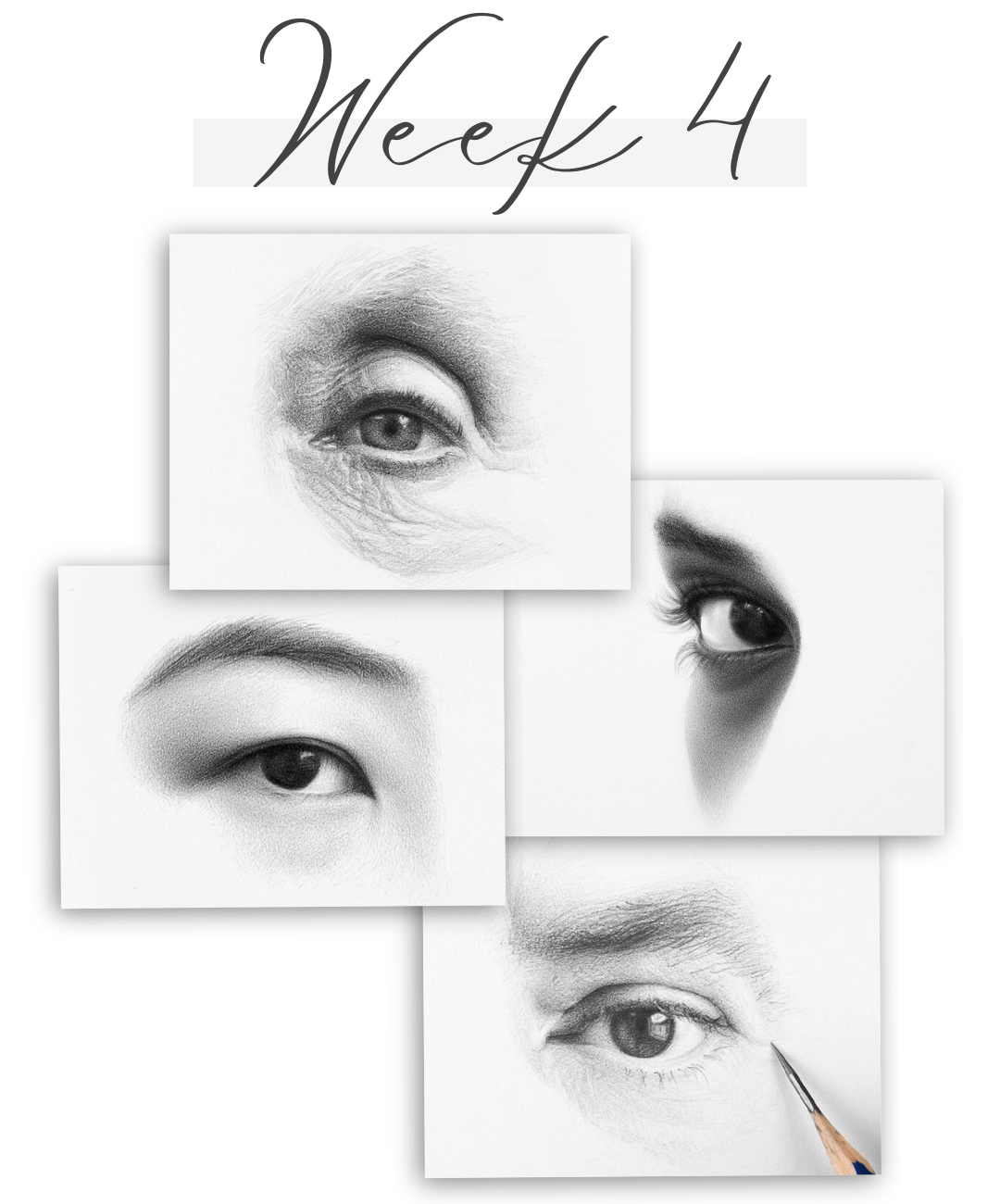 Shading Realistic Eyes, Part 1: Values


Though I find all stages of the eye-drawing process completely absorbing, the shading or rendering stage is still my favorite!

There are two main components of shading: values and edges. This week, you'll learn how to view, analyze, and simplify the values of the eye, to create the most realistic effect.

You will also learn:


the most common value mistakes that lead to unrealistic eye drawings (and how to avoid them!)


what makes a good eye reference photo


how to design your eye drawing

Student Comments


❝ Wow, I 'didn't know what I didn't know' about values. I've never 'seen' values like as I did during this week's exercises, and it's reflected in my drawing. I'm so excited, thank you! ❞ -Tracy B.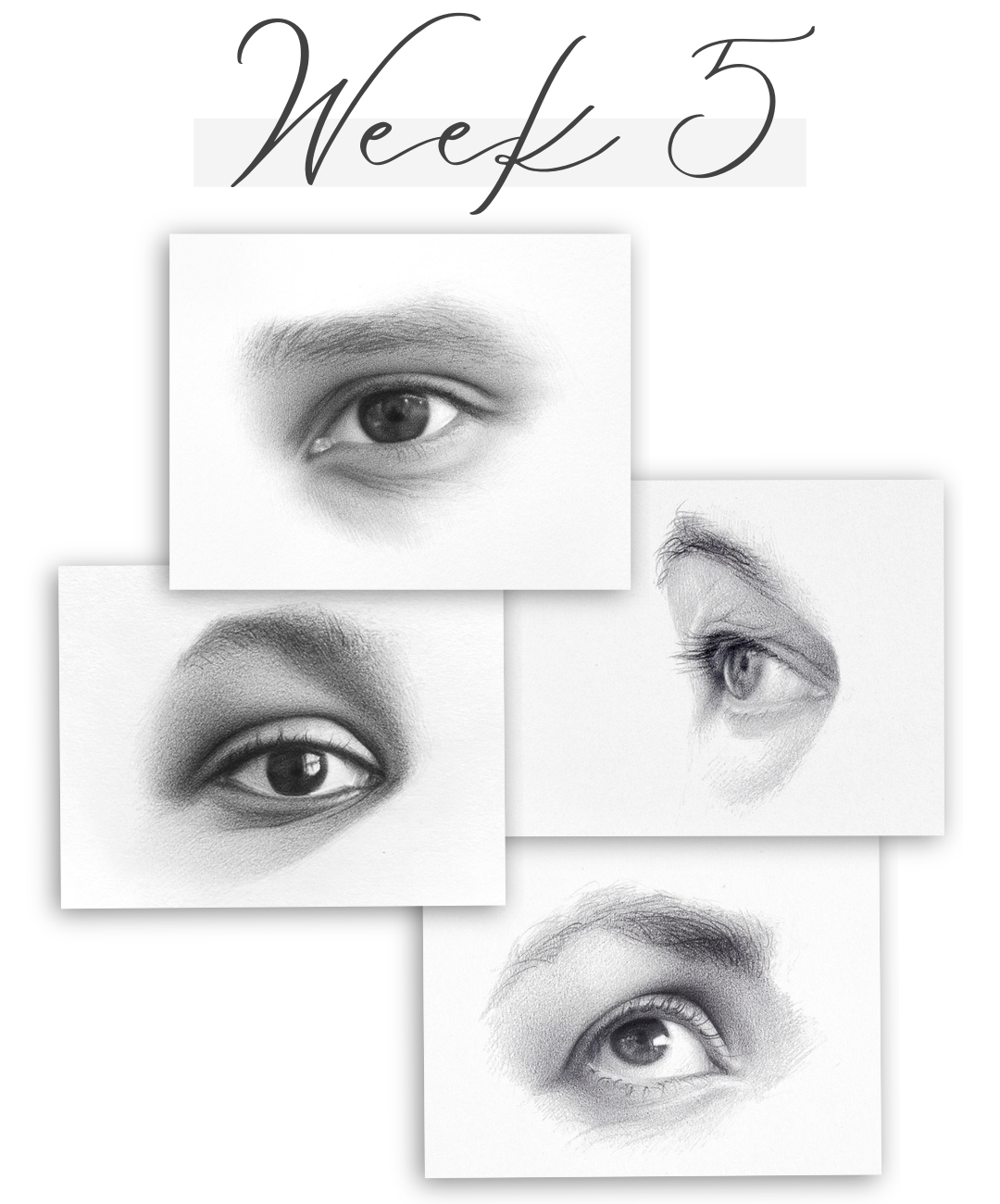 Shading Realistic Eyes, Part 2: Edges


Edges (the second component of shading) create depth and dimension in your drawing when observed and drawn skillfully.

This week you will learn to view, analyze and shade realistic edges in your eye drawings.

You will also learn:


the most common edge mistakes that lead to unrealistic eye drawings (and how to avoid them!)


what makes shading look natural rather than illustrative

Student Comments


❝ I really enjoyed and learned from this wonderful course. Thank you for your careful and enthusiastic guidance over the past four weeks. I feel that my viewing and drawing techniques have improved dramatically. ❞ -Kaoru M.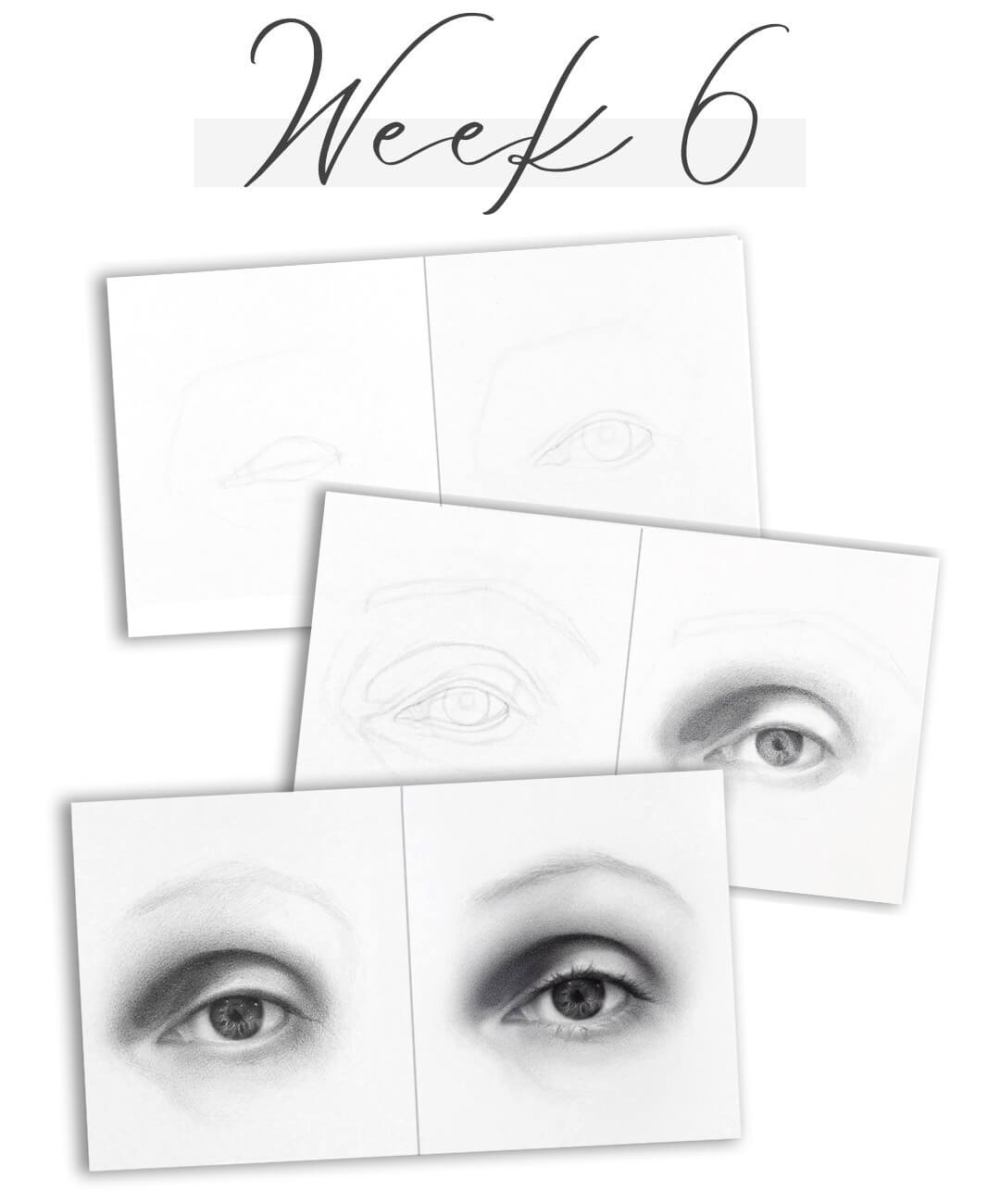 Putting it All Together


In the final week, you will practice linking the eye-drawing steps in a smooth drawing process!
This week will also serve as a catch-up week, for you to finish up your eye drawing from the previous week, and ask any remaining questions you may have.



Student Comments


❝ This course was amazing, I learned so much. I became aware of parts of the eye I didn't even know to look for or draw. Marina's explanations and examples were tremendously helpful. She is a wonderful teacher. Though I was nervous to take the class as a beginner, she was so thorough, easy going, kind, and created a very 'safe' environment. I will take any future course that she offers! ❞ -Michelle S.


How it Works: Course Format

We start on Monday, January 8!
Every Monday for 6 weeks, you will receive a module of the course.


Each module features a lecture and exercises for you to complete.


Work through the module at your pace, posting your questions under the lessons, to be answered by yours truly during office hours (every Tuesday and Friday).


Or, opt for the Eye Drawing Intensive Plus+ to also receive weekly, personalized drawing reviews from me (in video format), as well as 3 live Q&A calls every 2 weeks!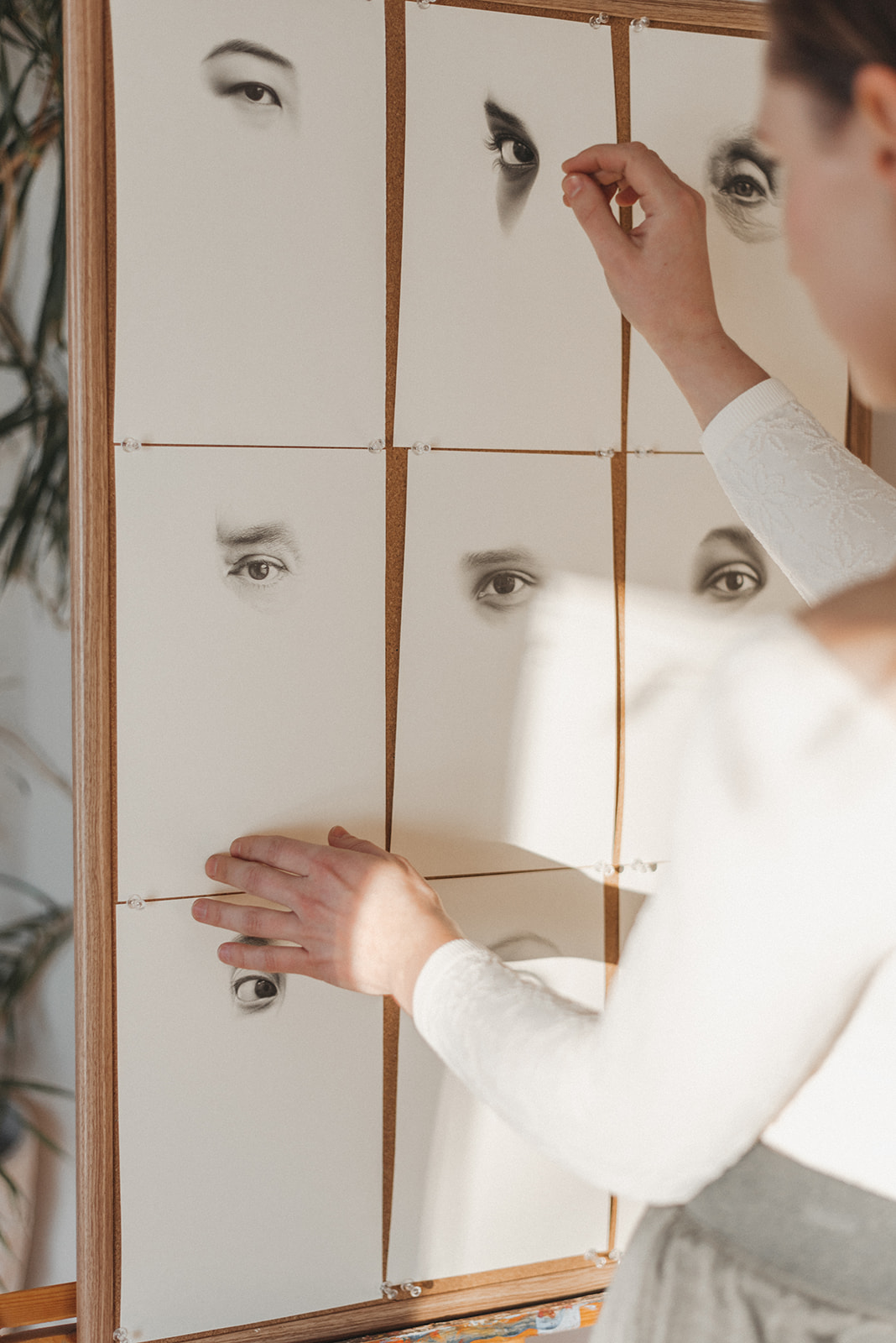 Hi there! I'm Marina.

I'm a professional visual artist, arts educator, and 'Drawing Source'ress' ;) at TheDrawingSource.com
I love distilling complex drawing concepts into steps that are easy to understand and apply, and consider myself successful when you increase both your skills and your enjoyment of the drawing process!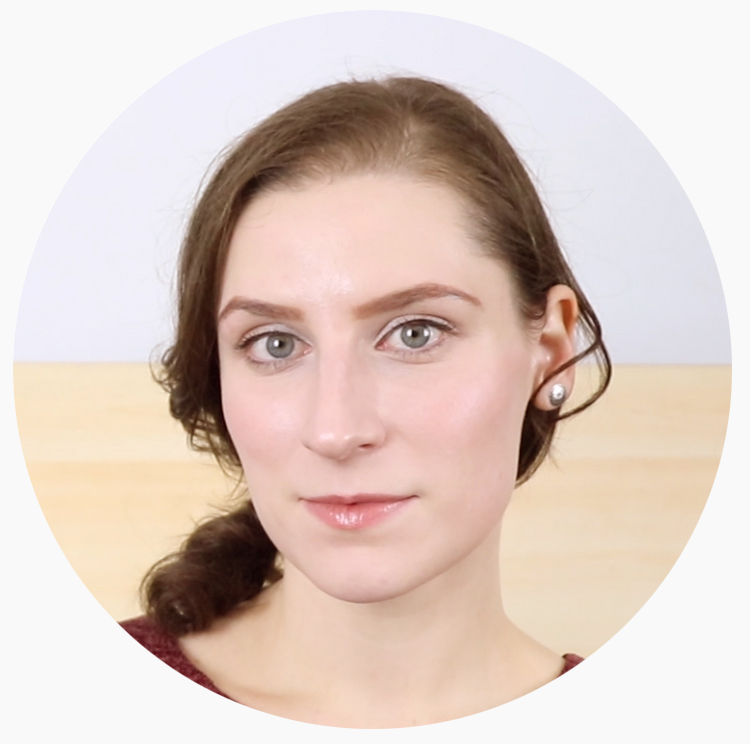 Why learn from me?


I certainly wasn't born with the ability to draw (most aren't!)
I had to learn to draw realistic eyes, as you can see below, so I can relate to where you are in your drawing journey.
These days, eyes are one of my favorite drawing subjects: I'm even working on a project in which I'm drawing over 200 of them!


Observing, studying, photographing, analyzing and drawing this many eyes has given me the opportunity to deconstruct my process and design exercises to study each component.


I can't wait to share my findings with you, and help you transform your eye drawings, just like I did!

Fancy Third-Person Bio


Marina Fridman is visual artist, arts educator, and author (or Drawing Source'ress!) of The Drawing Source.
She held a Tenure-Track Instructor position at Northwestern Polytechnic in Alberta, Canada before leaving to focus on developing The Drawing Source.
Marina holds a Master of Fine Arts Degree in Sculpture and Dimensional Studies from Alfred University, and a Bachelor of Fine Arts Degree from the Pennsylvania Academy of Fine Arts.
She is a three-time recipient of the prestigious Elizabeth Greenshields Foundation Grant, an Edmonton Arts Council Grant in 2021, and a Canada Council for the Arts Grant in 2020, to name a few.
She has been awarded artist residencies around the world, and her work has been published in books and magazines such as Hi-Fructose Magazine (online), Booooooom, Drawing Discourse, the Manifest International Drawing Annual, Foundations of Drawing (Random House), among others.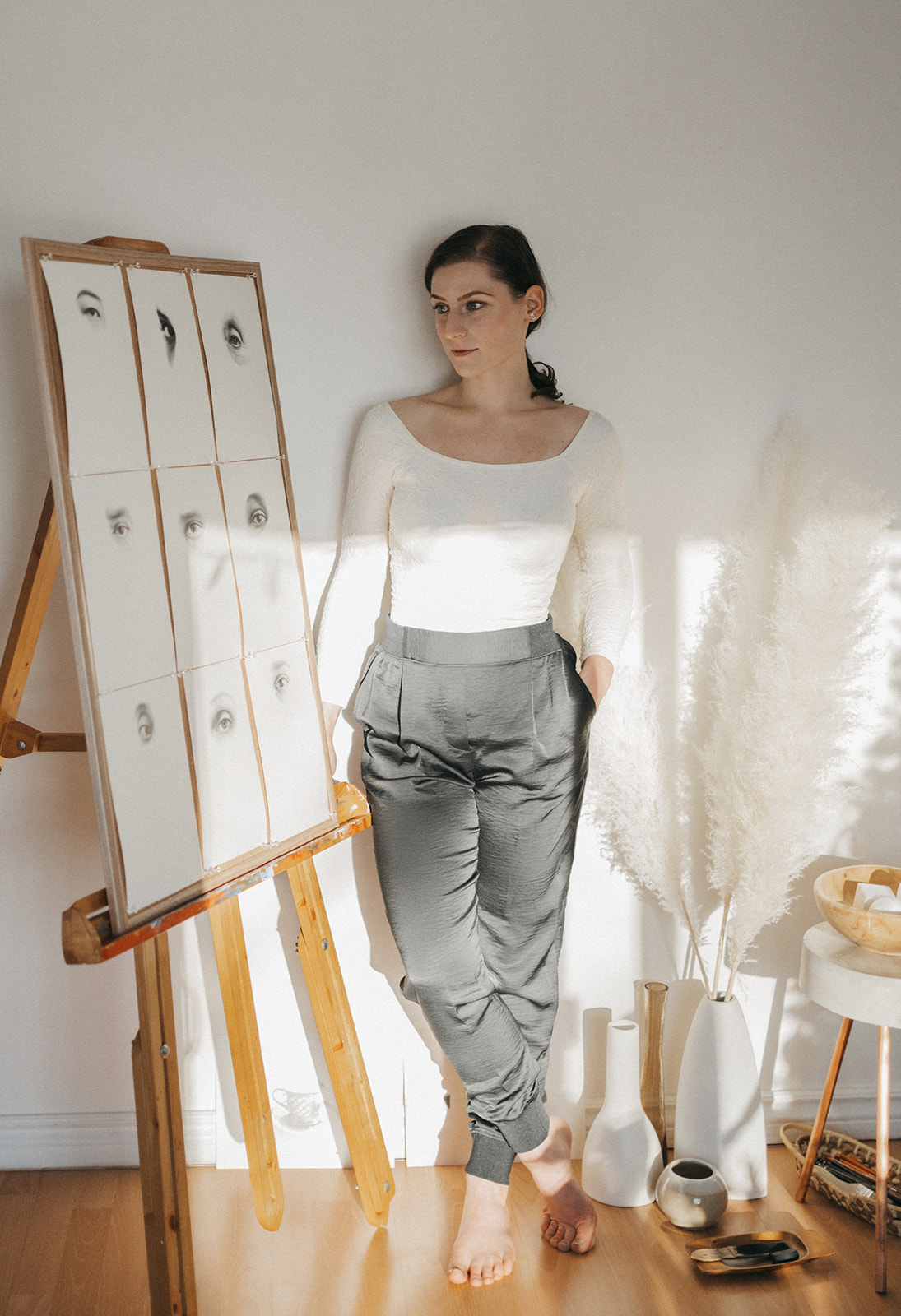 My work has been featured in:

This is an 'advanced-beginner' to intermediate class.

Previous drawing experience is recommended.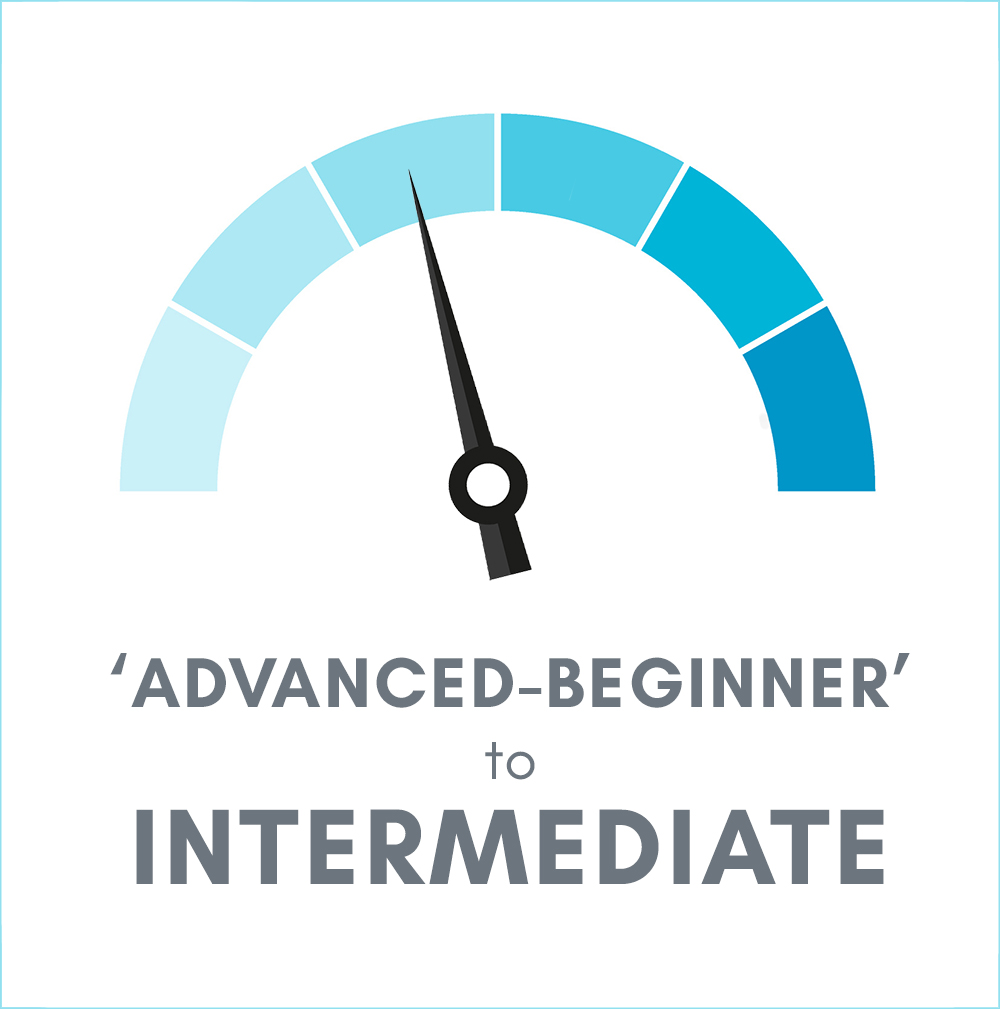 This class is for you if:

✔️ You have some drawing experience and want to evolve your eye drawings


✔️ You want a step by step approach to learning anatomy and construction


✔️ You are thrilled to draw, eager to learn, and are up for a challenge


✔️ You want the opportunity to ask questions


✔️ You enjoy my teaching and/or drawing style

Frequently Asked Questions:

"Will I have lifetime access to the Eye Drawing Intensive course?"
Yes, absolutely! You will also have access to any upgrades and additions to the program.
This week's sale is the lowest price that this course will ever be offered.

"Is this a live online course?"
No, it's not live this time, though if you opt for the Eye Drawing Intensive Plus+ option, we will meet for 3 live Q&As! You and I will also communicate weekly, as I will be sending you drawing review videos so that you can make the most of the program and homework exercises.
While it was wonderful to be live on Zoom with students in the previous round of the course, the time of the class was inevitably inconvenient for some (it was 5am for one student!) and the four, 3-hour sessions were not enough time for me to share everything! This way, I'm able to provide more course content, and you can focus on the program instead of making it to class.

"Will the lessons be subtitled?"
Yes, you can choose to turn the subtitles on or off. The default subtitle language is English, but a new feature in my course platform should allow me to choose 10 other languages to translate the subtitles into. (Though I can't vouch for the accuracy of the translation.) Just request the language you prefer!

I can't wait for you to...

✔️ feel the thrill of your eye drawings coming to life
✔️ experience time and space melt away as you draw, and
✔️ unlock your drawing potential!

I so look forward to working with you, and helping you transform your drawings.